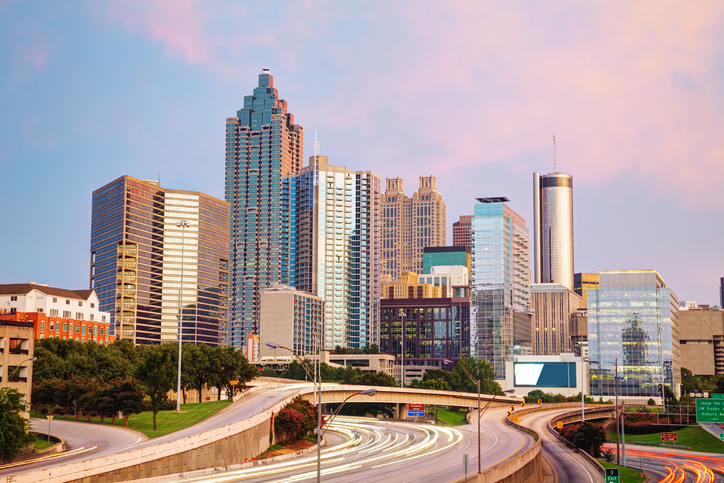 July is National Peach Month, as proclaimed by Ronald Reagan in 1982, so we thought it'd be timely to share some details about The Peach State (aka Georgia) and its capital and largest city, Atlanta.

Read on to learn:
5 facts about peaches

Why Georgia is a top place to do business

5 facts about peaches

Performance stats for Atlanta's office, industrial, retail, and multifamily sectors
5 Fuzzy Facts

1. Peaches are stone fruit, which is a fruit with flesh or pulp enclosing a stone
2. Peaches come from China, which produces 58% of the world's peaches and nectarines annually
3. On average, the U.S. produces 1.9 billion pounds of peaches each year
4. Though Georgia is known as The Peach State, it's California that leads the nation in peach production
5. The term "you are a peach" has a story behind it: traditionally, people gave peaches to the friends they liked the most

Now, back to The Peach State…

Georgia's pro-business climate has been recognized nationally. Site Selection has ranked Georgia's business climate #1 in the nation for six consecutive years, and Area Development has ranked Georgia as the top state for doing business for five years in a row.

Georgia is a prime location for corporate and regional headquarters. Eighteen Fortune 500 headquarters and more than 450 Fortune 500 companies call Georgia home.

The state's pro-business climate has been a boon to Atlanta, which is widely considered to be the capital of the southeast. The metro area boasts the third largest concentration of Fortune 500 companies in the country. Companies include The Coca-Cola Company, The Home Depot, Delta Airlines, Mercedes Benz USA, AT&T, and UPS. The city is also home to major global media organizations including CNN, Turner Broadcasting, and Cox Communications.

People are moving to Atlanta to take advantage of employment opportunities, affordable housing, and overall quality of life. From 2010 and 2019, the metro area was the nation's fourth-fastest growing metro area, added more than 730,000 new residents, according to the U.S. Census Bureau.

Georgia was among the earliest states to loosen pandemic-related restriction, and remote workers flocked to Atlanta. The population increased 2 percent last year with even stronger gains projected for 2021.

In fact, the Atlanta Regional Commission forecasts the 20-county region will add 2.9 million people by 2050, pushing the total population to 8.6 million.

Along with its expanding population, the Atlanta metro also added more jobs at a higher rate than the U.S. average, according to the U.S. Bureau of Labor Statistics. Since early 2013, the metro's nonfarm employment growth, measured as the percent change over the prior-12-month period, has been significantly higher than that of the U.S. Over the past six years, the region has added 150,000 new jobs.

The most recent stats from the Georgia Department of Labor report metro Atlanta's unemployment rate at 3.9%. It added 262,300 jobs from April 2020 to April 2021.

5 Attributes that Make Atlanta So Hot (metaphorically, not literally)

1. Hartsfield-Jackson Atlanta International Airport, aka The World's Busiest Airport

Served by 18 domestic and international airlines, it is within a two-hour flight of 80% of the U.S. population. About 260,000 passengers fly through Atlanta each day on average. The airport generates $34.8 billion economic impact for metro Atlanta.

2. Fiber infrastructure

With its extensive fiber access, Atlanta is often referred to as "America's Most Wired City". It ranks in the top five U.S. markets for total bandwidth, and Google recently named it as an up-and-coming Fiber City. Two of the country's largest fiber trunk lines (North/South and East/West) intersect in metro Atlanta, along with major research lines Internet2 and the National LamdaRail (NLR).

3. Plentiful labor pool

The Atlanta metro area houses the vast majority of Georgia's workforce, which consists of more than 6.3 million people. CNBC ranked the state as number for Workforce in the U.S., while Area Development recognized Georgia as #1 Labor Climate in the U.S.

4. Higher education

More than 70 higher education institutions are located in the region with an enrollment of nearly 300,000 students. The largest public universities within the region include Georgia State University, Kennesaw State University, and the Georgia Institute of Technology. Private universities include Emory University and Mercer University, among others. These universities provide a constant source of educated talent for Atlanta's employers.

5. Global fintech center

About 170 fintech organizations are located in Georgia, according to the Technology Association of Georgia's 2020 FinTech Ecosystem Brief. Fintech employs more than 38,000 Georgians, with the revenue of the top 15 Georgia-based public fintech companies exceeding $114 billion. Some of the leading fintech businesses based in metro Atlanta include Global Payments, NCR, Equifax, Fiserv, and InComm Payments. Additionally, 70% of all debit, credit, and prepaid card transactions in the US are processed in Atlanta, giving it the nickname "Transaction Alley".

Atlanta is fortunate to have the necessary ingredients for a growing real estate market across all sectors. Now is the time for investors to evaluate the area and determine if it's a good fit for their portfolios. Several Archer clients are expanding in the southeast, and they're working with us to source multifamily deals in and around Atlanta. Reach out if you're interested in learning more.