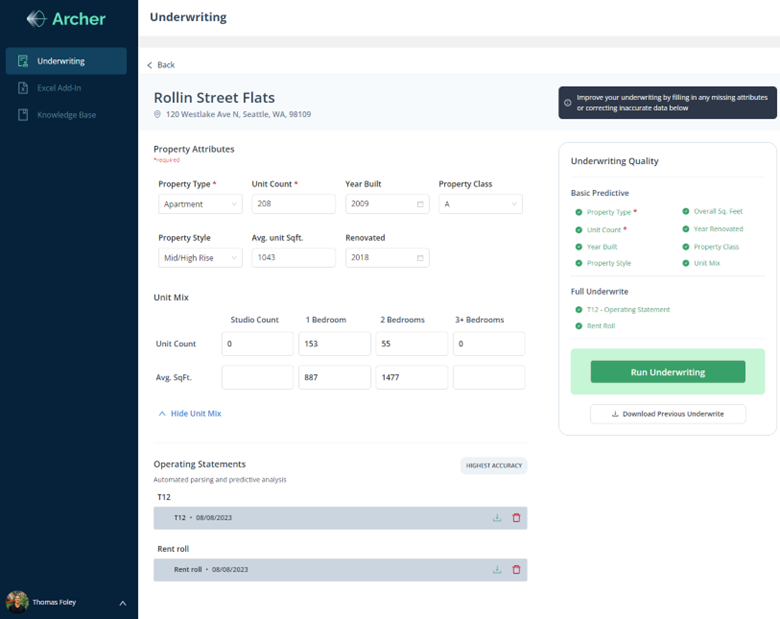 Introducing New Features to Enhance Your Deal Velocity with Archer
At Archer, we're committed to delivering the most accurate real estate investment underwriting while saving you valuable time. We believe in the power of combining Archer's technology with infused data and your expertise to generate incredible analysis. With our focus on "productivity enhancement," we aim to multiply your time savings, accuracy improvements, and decision-making ability by 10-100x.
We're excited to announce our key features launched early in Q3 2023, setting us apart from competitors who merely focus on document parsing. Here's what's new: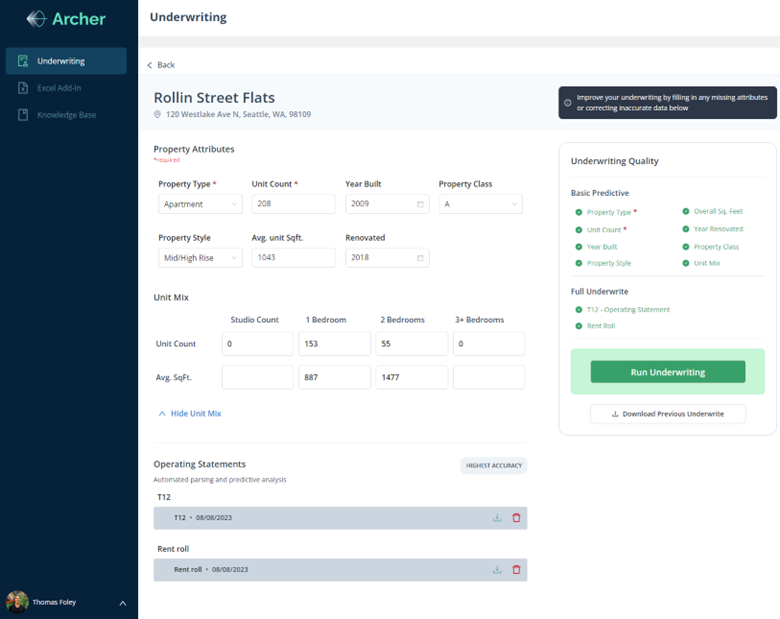 PDF Parsing for Rent Rolls and Operating Statements
Challenges Addressed: Eliminate the time-consuming manual effort of incorporating PDF or Image files into analysis; Archer automates this data transformation.
Personalized Integration: Upload Rent Rolls or T12 through Archer's webapp or Archer's Excel Add-In and experience an immediate transformation that aligns with Archer's suite and your workflow.
Real-World Benefits: Say goodbye to 24-48 hour time delays and human entry errors when outsourcing data extraction. Archer delivers this in under 15 seconds with remarkable accuracy.
Supported Formats: All PDF formats are supported, enhancing Archer's capability in handling complex documents.
Customizable Attributes for Multifamily Properties
Tailor-Made Customization: Modify everything from property type to unit count, class, vintage, renovation date, unit mix, and square footage to fit your unique needs.
Build Stabilized Financials: Forecast developments that haven't happened yet by loading anticipated attributes to generate a predictive underwrite for your future property.
Aligned with Expertise: Whether you're a market expert, developer, or planning a renovation, Archer's customization aligns with your specialized knowledge for better outcomes.
Precision in Underwriting: Incorrect or outdated attributes can greatly reduce underwriting accuracy. Customization allows precise adjustments, such as rental comps, leading to more accurate NOI and valuation.
5x Expanded Multifamily Property Universe
Enhanced Reach and Accuracy: Analyze the entire U.S. market with over 5x expanded reach and utilize the ability to review and update property attributes for highly precise underwriting.
New Deal Opportunities: Properties previously beyond Archer's coverage can now be analyzed, unlocking many untapped possibilities.
Client-Specific Insights: Merge your local expertise with Archer's platform and infused data for more accurate underwriting, leveraging knowledge like never before.
Unique Offering: Archer's 'pre-check' step and property-specific customization have led to exponentially better outcomes, setting our dataset apart from competitors.
Our Commitment to being a 'Productivity Multiplier'
Archer's journey from being the only 'predictive underwriting' platform to now has been one of relentless innovation and growth. When we first launched, our core focus was on predictive underwriting, enabling clients to build out an entire underwriting model and estimate NOI with just an address in under five minutes. It was a pioneering approach that set us apart.
As we continued to listen to our clients and understand their ever-evolving needs, we took deliberate steps to broaden our capabilities. We incorporated T12 parsing, which opened up new dimensions in data processing and allowed for a seamless integration with various financial documents. The addition of Rent Roll parsing further streamlined the underwriting process, making it possible for our clients to extract valuable information from various formats and integrate them into the Archer platform in seconds.
Our most recent innovation, the addition of customizable attributes for every Multifamily Property, represents a new level of empowerment for our clients. Now they can tailor every aspect of the underwriting process to match their unique requirements, from adjusting specific property attributes to fine-tuning analysis based on local market insights. It's all part of our commitment to ensure that Archer evolves in tune with our clients' strategic goals.
Together, these enhancements create a holistic workflow that covers every aspect of the acquisition and transaction analysis process. Our technology not only streamlines each step but does so with an accuracy and efficiency that can effortlessly take days out of each deal. Whether it's an initial analysis or a complex transaction, Archer's suite of features brings together all the elements needed for success.
In a space where others may start and end with document parsing, Archer's continual advancements are designed to successfully capture the entire workflow, from start to finish. We are here not just to improve one segment of your work but to redefine how commercial real estate analysis is done.
This constant evolution is a reflection of our commitment to you, our clients, and our belief that your time is valuable. We are devoted to providing tools that save time without compromising accuracy, and we continue to strive towards more innovations that will further amplify your decision-making ability.
Try It Out!
Explore these features today and see how we're elevating the commercial real estate analysis landscape. Schedule a demo with our team to explore these new capabilities.