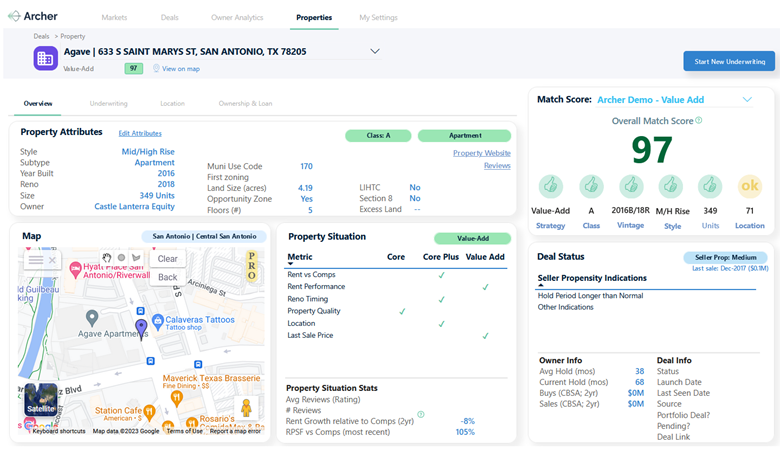 Why we built Strategy Builder + Deal Sourcing
At the heart of Archer lies a simple yet profound vision: to leverage technology and data for superior real estate investment decisions. This aspiration emerged from our firsthand experience with the arduous task of creating and consistently updating an investment strategy that needed to be grounded in real deals.
We discerned a marked disconnect between over-stretched research teams, who at best updated their strategies annually, and acquisitions teams, who were in the trenches daily, seeking to evaluate new markets and opportunities. This chasm, coupled with the time-intensive nature of manual strategy formulation, sowed the seeds for the Archer Strategy Builder and Deal Sourcing Platform.
As the global landscape becomes ever more fluid—with migration patterns, technological advances, and economic shifts happening at breakneck speed—this tool's significance has only amplified. Gone are the days where investors could comfortably rely on a single strategy throughout an entire real estate cycle. The new era demands agility, an ability to rapidly digest vast data streams, and the dexterity to adjust strategies in real-time.
Introducing Archer's Strategy Builder and Deal Sourcing Platform Updates
In the past, investors could get by with an investment strategy through an entire real estate cycle. Today, with rapid changes in migration, technology, and the economy, investment professionals need tools that help them stay ahead. That's where Archer's Strategy Builder and Deal Sourcing Platform come into play.
Strategy Builder:
Why should I care? Archers Strategy Builder quickly develops a comprehensive, customizable analysis of any market and immediate access to data-driven deals in those markets.
Features & Benefits:
Comprehensive data and real-time analysis on any market or submarket, leading to streamlined market research.
Over 175 factors to customize your market strategies, allowing for a highly tailored analysis of potential markets.
An integrated workflow lets strategy influence deal sourcing that is informed by underwriting, connecting market research to a pipeline of actionable deals that are evaluated faster than ever with predictive underwriting.
Deal Sourcing:
Why should I care? Archer's analytics and AI analyze the largest set of on and off-market deals, providing comprehensive analyses quickly, including property recommendations.
Features & Benefits:
A custom pipeline of data-driven, consolidated deal flow and valuable insights from the largest set of on and off-market deals, ensuring you never miss a potential investment.
The Match score provides tailored, data-driven deal recommendations, optimizing your search for quality deals.
A propensity to sell markers highlight off-market, data-driven deals with a high likelihood of selling that align with your criteria.
Deep Dive into Archer's Latest Updates
Enhanced Location Metrics for Expanded Property Types
We've incorporated retail and office metrics, making property information more searchable and user-friendly. This update, primarily based on feedback from Hem & Spire and Midway, optimizes usability for teams venturing beyond multi-family properties.
Strategic Filters for Focused Sourcing
Thanks to insights from Brightview, Deaton, Sentinel Peak, Willow Creek, and several others, we've expanded our sourcing filters. Now you can search by performance relative to comps, opportunity zones, zoning, loans, ownership, and more.
Intuitive Formatting and National Medians
Eliminate confusion with restructured location metrics that display data in an understandable format. This refinement, inspired by Ansonia, Willow Creek and Essential Realty, also integrates a national median for enhanced market selection comparisons.
Exportable Deal Sourcing Tables
Tailored to meet the needs of clients like Blue Lake, Sentinel, ACG, HFO, Blue Sky Advisors and Brightview, you can now export your deal sourcing tables for flexible data manipulation.
Comprehensive Property Information
Delve deeper into property insights with owner names, loan specifics, and zoning details. This significant enhancement caters to our clients with a keen interest in off-market deals.
Location Discovery for Optimized Strategy
Working with teams at Blue Lake, Midway and Graycliff Capital, our newly integrated location discovery pane assists in selecting the most relevant metrics for location strategy and offers regular metrics reporting for properties.
Combined Heatmap and Deals View
Clients like ACG and Blue Lake can now evaluate properties on the deal sourcing page based on location scores, merging the heatmap and deals views for a holistic perspective.
Direct Property Search Functionality
No more searching for deals in the dark. Now you can locate specific properties directly from your deal sourcing page, thanks to feedback from multiple clients and the addition of a property search pane.
User Buy-Box Visualization
Easily view, understand, and modify the parameters set in your buy-box. Hem & Spire, Midway, UseNectar and Union Property are among those who inspired this clarity.
Clearer Flagging & Metrics Simplification
We've enriched information on property flagging criteria, such as seller propensity and property categorization. Urban Asset Advisors and many potential clients inquired about this feature.
Google Map Street View Integration
Thanks to Interwest's suggestion, users can now take a virtual "drive by" of properties, providing a more immersive property evaluation experience.
Ownership Search & Analysis
In response to popular demand, we've launched a powerful ownership search and analysis tool. This feature aims to help groups keen on owner-specific searches, adding an extra layer of intelligence investment decisions.
The Success and Impact Archer's Clients have with Strategy Builder and Deal Sourcing
Our clients, many of whom are among the most esteemed names in real estate, have been instrumental in shaping the platform. Originally conceived for internal use, the tool piqued the interest of real estate investment firms, who saw its potential in honing their own strategies and expanding their actionable deal pipelines.
Success stories abound, from clients pioneering into previously uncharted markets to those attracting substantial investment inflows. One such client deftly leveraged the Archer Strategy Builder to the tune of raising over $1 billion in purchase power in a mere 12 months to pursue a novel multifamily investment strategy.
Today's transactional climate poses unprecedented challenges. Surging interest rates have diminished the volume of deals entering the market, with a widening bid-ask gap making acquisitions an increasingly intricate puzzle. In this backdrop, a tool that offers a panoramic view of potential deals aligned with a robust strategy is not just a luxury—it's a necessity. One of our clients astutely employed Archer's Strategy Builder and Deal Sourcing to cover an expansive 26 states in a month, unearthing and rapidly underwriting 68 deals that perfectly dovetailed with their strategy.
But this is just the beginning. Our vision for the Investment Strategy Builder is expansive. We aim to relentlessly pare down the administrative burden that consumes 95% of the investment analysis process. With the continual evolution of the Strategy Builder and Deal Sourcing, we envisage a future where our clients save invaluable time and harness the power of data for unparalleled decision-making—driven by an integrated, all-encompassing investment analysis platform.
If you are interested, reach out to our team to get a demo of the Strategy Builder and Deal Sourcing in action.