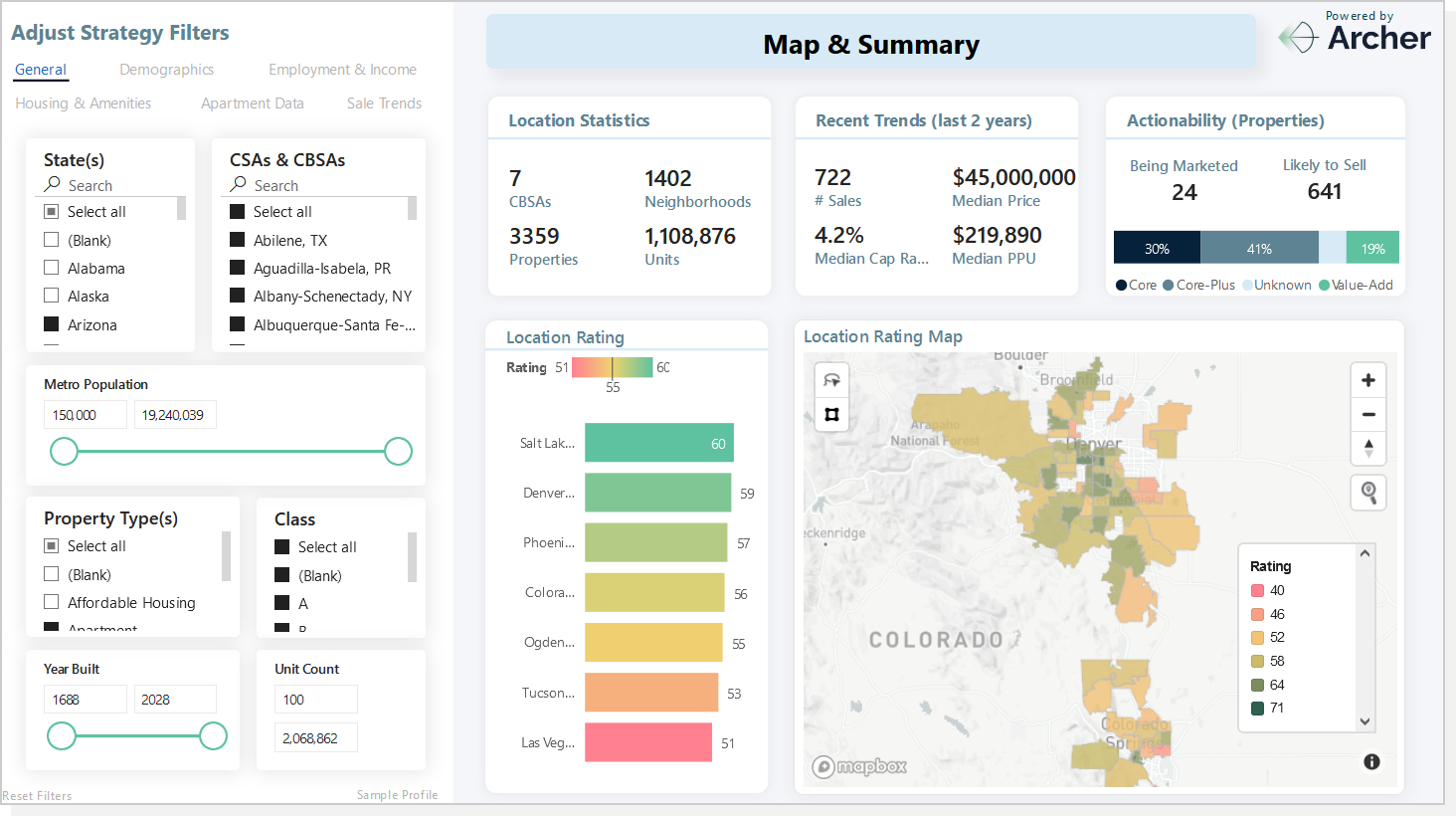 While no real estate market is perfect, some are much better than others—for you. It's all about your strategy, your needs and your goals. Some markets will offer more fruitful opportunities than others, and we want to help you find them. So we built an algorithm. (Of course.)
Our new Investment Strategy Builder tool helps you translate your strategy into real opportunities, and it allows you to compare markets and submarkets side by side. It serves as an excellent starting point in your quest for expansion.
To help explain the tool, here is our fearless leader, Fred Canney, answering questions.
Disembodied narrator: What gave you the idea for the Investment Strategy Builder?
Fred Canney: One of our clients asked for help to pick the next market they should focus on for their investments. They were really good at investing in a particular city, and they were looking to find that next great city. With our background in market selection and our robust data set, we agreed to build a platform that would interpret their particular strategy and help identify the best areas to invest.
As we got further into the development, we realized that our unique database setup that combines market selection data, demographics and property-level information (including what properties are currently for sale or likely to come up for sale soon) put Archer in a unique position to combine market selection with deal-making in one tool. This connection point between markets and properties is where a lot of companies struggle to turn research into real action, which is why many market selection exercises become cumbersome and time-consuming. (I've experienced this firsthand.)
We set out to make something truly unique with the combination of market selection, deal pipeline and underwriting in one toolset, and I think we're succeeding in that space.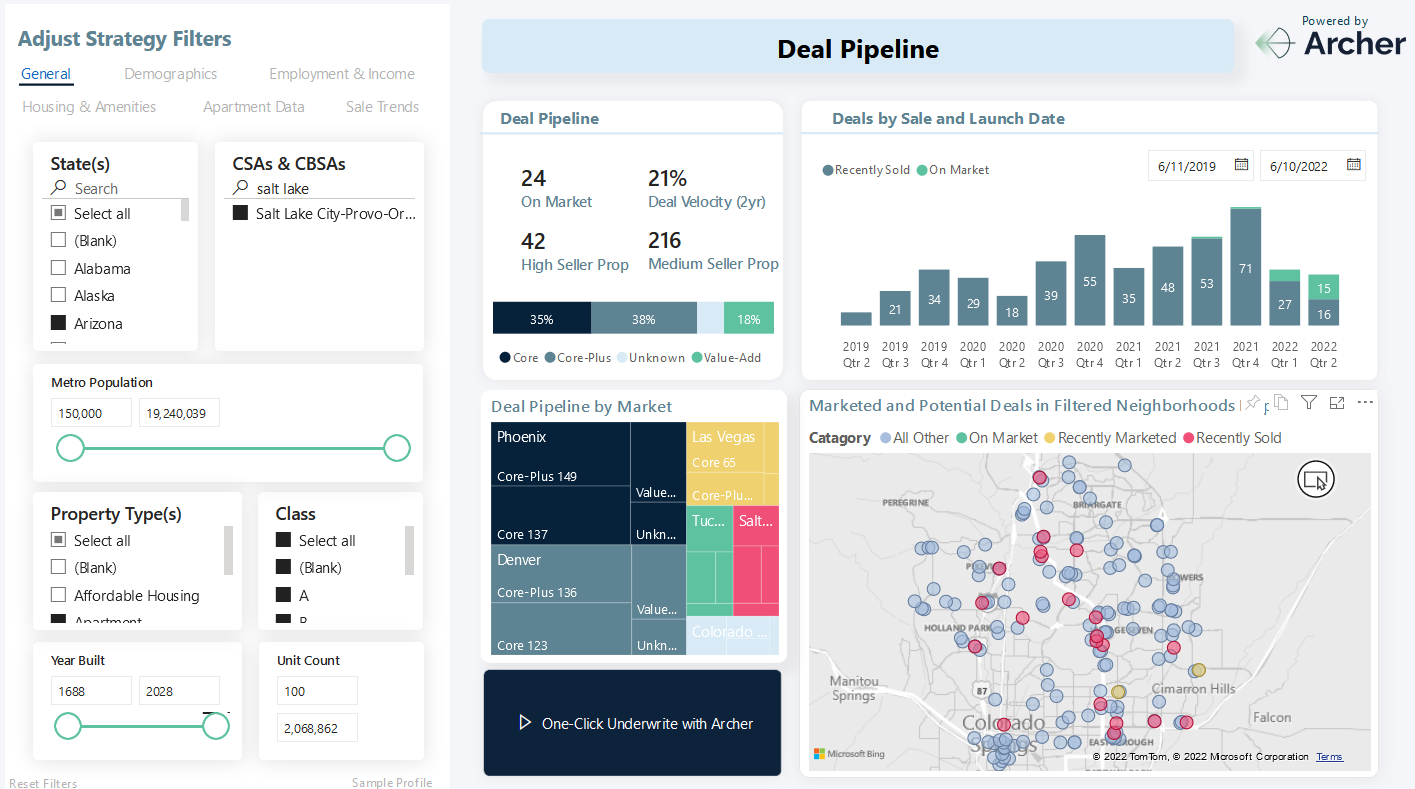 DE: If an investor already has an investment strategy, will this tool still be valuable to them? To what end?
FC: This is actually the situation where the tool shines the best. Most companies have an existing investment strategy or, we might say, an investment thesis. They have an idea of where they think the world is heading, and based on that, they have an idea of what types of investments might be lucrative if that vision comes to fruition. Our Investment Strategy Builder really turns the thesis into action by helping clients quantify, visualize and ultimately act on their thesis for where the world is headed.
In the tool, you can select the metrics that best articulate your vision for the future, rank locations based on those unique metrics, identify deals within those areas and ultimately take action (e.g., underwrite or bid on deals) that fit your ranked criteria. Previously, your team might take weeks or months to do this same work, just to test a single theory. We enable you to test, retest, change and adapt your strategy very quickly in a way that wasn't possible before.
DE: With other similar tools available, why is Archer's unique?
FC: There are certainly other market selection, geographic selection and demographic aggregation tools on the market. There are even a few that have real estate-specific metrics and that incorporate high-level real estate trends such as pricing or rent movement. Where Archer's platform stands out is in three key areas:
1. The platform was built with an acquisitions professional in mind.
This isn't a hardcore researcher's dream product where they can create metrics on the fly, do complex statistical analysis and think up new variables to test with their data science team. This is something that, within a short period of time (maybe half an hour), allows an acquisitions professional to turn cutting-edge data engineering and analytics into actionable strategies to share with their stakeholders.

It has outputs and analysis specifically designed to answer the questions that an acquisitions team has to answer for each deal (e.g., how does this submarket stack up against other submarkets, why do our selected "best" areas outrank other potential areas, what deals are on the market that we can pursue today, etc.).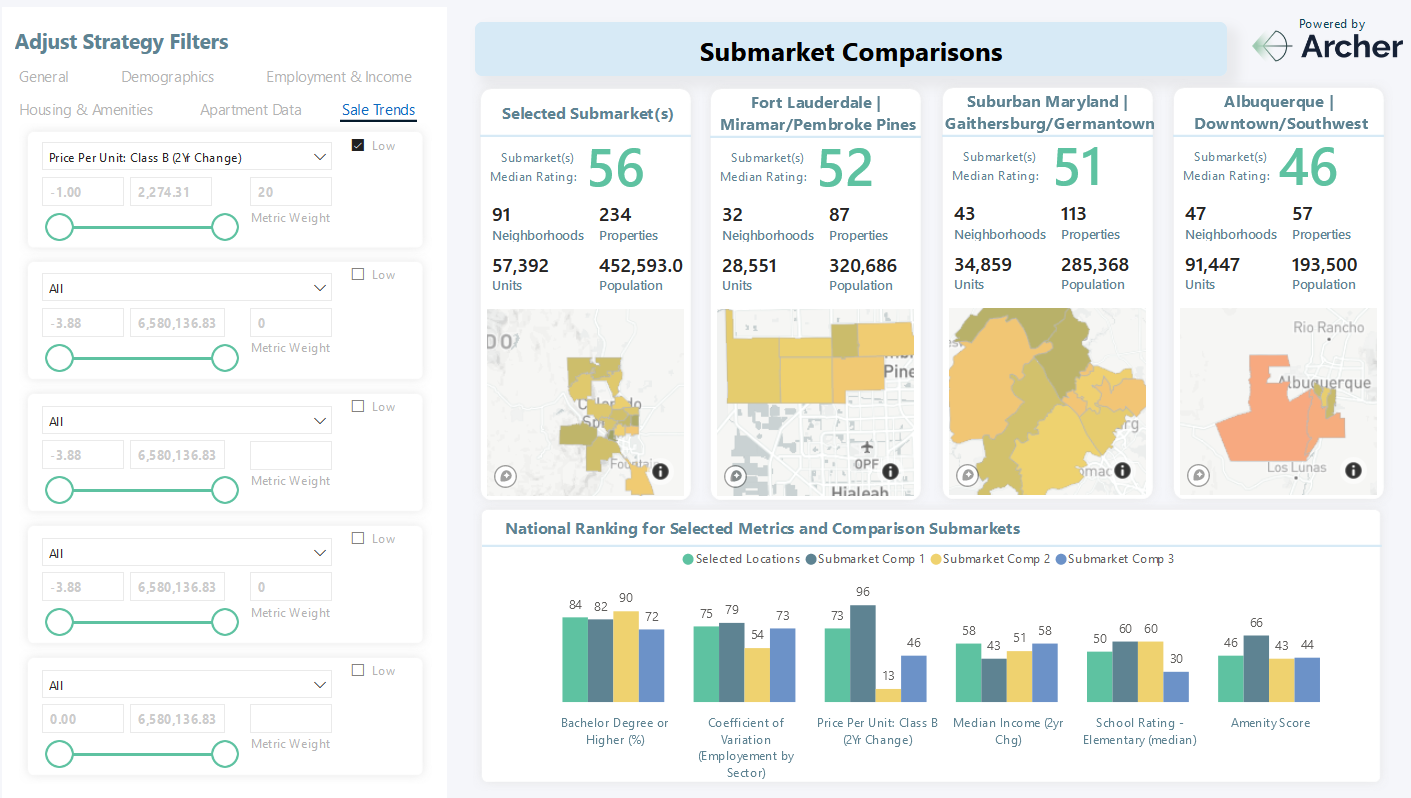 2. We added deal information to the market selection.

This lets you quickly test your theoretically best strategy against actionability, and you can revise your strategy accordingly. Traditionally, this is how the process would work:

Research team develops a thesis for how the world will work (i.e. themes).

They gather tons of data that will factor into that thesis.
They develop a way to use the data, mix and match locations and come up with a target list of cities.
They approach the acquisitions team with top cities.
The acquisitions team reaches out to the top brokers in those markets and asks to be included in any new deals that are marketed by those brokers (i.e., get added to the deal blast emails).
They may also ask the brokers for the most recent deals sold in the market.
The acquisition team will underwrite a ton of these deals—anything they can get their hands on—to develop a sense for the market and how it's trading.
The acquisition team will decide whether the newly-identified cities are actually good targets to pursue.
If yes, they wait for the next broker email blast to come their way and then start bidding on the deal if it fits their strategy.
If no, they walk away having wasted weeks or months of effort.
We circumvent nearly all of that. Not only does our platform already have the data and ability to rank locations based on a custom strategy, but ours also ties deal flow with our underwriting platform. You'll be able to determine "likelihood to be able to execute on the strategy" simultaneously with the market research.
3. Archer's platform has been built to help groups perform (what I call) targeted prospecting. Instead of evaluating as many deals as possible from as many brokers as possible—and always being reactive to what comes to the market—you can set your strategy and create prioritized lists of properties that you want to own. You can use our tools to underwrite those properties and even develop a "strike price" for each property (if you want to go that far). Eventually, we'll enable you to put alerts on those properties such that if any of them comes to market or becomes "actionable" off-market (or through one of Archer's broker channel partners), you can then take action faster than anyone else.

We're helping you shift from focusing on what's urgent to focusing on what's important. (That is, don't focus on a deal just because it was emailed to you today. Instead, focus on the deals that you already know fit your strategy and buy-box.)
DE: How can I see the Investment Strategy Builder in action?
FC: If you think the Investment Strategy Builder could be a fit, we'd love to hear from you! We'll set up some time to meet, learn about your needs, and give you a demo of the product. Can't wait for a demo? Check out this short video to learn more about how it works.