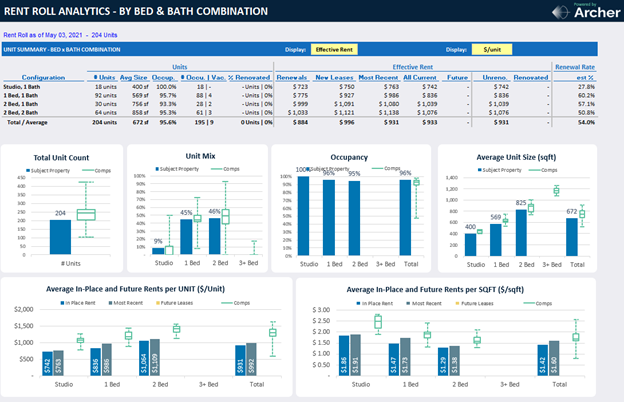 Harnessing AI and Automation to Transform Your Multifamily Investment Analysis
Revolutionizing Rent Roll Analysis with AI and Data
Say goodbye to manual rent roll analysis! Archer's Automated Rent Roll Parser automates the process for the fastest, most accurate insights. Discover how our innovative tool, backed by AI, empowers real estate professionals to make smarter investment decisions.
Archer's Automated Rent Roll Parser leverages decades of real estate expertise combined with the power of artificial intelligence and automation to provide real estate professionals with an unprecedented level of efficiency and accuracy in analyzing rent rolls. The tool is designed to tackle common pain points in the multifamily investment analysis process, such as time-consuming manual data entry, aggregating data from multiple sources, and interpreting complex financial information.
See a demo of the Automated Rent Roll Parser here.
Key Benefits and Differentiators
Archer's Automated Rent Roll Parser offers unparalleled speed, accuracy, and comprehensiveness when compared to traditional rent roll analysis methods and other parsing software. Users can analyze, map, and benchmark almost any rent roll in less than 10 seconds, making it a significant time-saver. Moreover, the tool's advanced analytics and machine learning algorithms ensure a high level of accuracy in parsing rent rolls, minimizing the risk of human error and eliminating the need for manual data mapping exercises. Archer's Rent Roll Parser also provides additional data insights, comparisons to third party comp properties and other income analysis that competitors do not offer, giving users a more comprehensive understanding of potential investments.
Trends in AI, Big Data, and Automation
The real estate industry is witnessing a surge in the application of AI/ML and automation for various processes, including document parsing and financial analysis. These technologies offer the potential to improve efficiency, reduce errors, and provide valuable insights that can guide decision-making. Archer's Automated Rent Roll Parser is at the forefront of this trend, harnessing the power of these technologies to revolutionize the multifamily investment analysis process with our clients.
Client Success Stories
Clients and industry experts alike have praised Archer's Automated Rent Roll Parser for its benefits to real estate professionals.
"There is no way I would've been able to underwrite and analyze this much deal flow without Archer." - Miles Pratt, Head of Acquisitions at Willow Creek Partners
In just 30 days, a single acquisition lead was able to underwrite 58 properties, explore deals across 21 states, submit 3 Letters of Intent, and have 2 more LOIs going out in the next two weeks.
Archer's Competitive Edge
One of the key differentiators of the Automated Rent Roll Parser is its ability to process a wide variety of rent roll formats, making it a versatile solution for investors, brokers, property managers, and lenders alike. Additionally, the tool integrates seamlessly with clients' underwriting models directly in Excel, accelerating the investment analysis process without disrupting existing workflows.
Get Started with Archer's Automated Rent Roll Parser
Getting started with Archer's Automated Rent Roll Parser is simple. If you're interested in trying it out, just reach out to Archer at contact@archer.re to schedule an introductory demo call with the team.