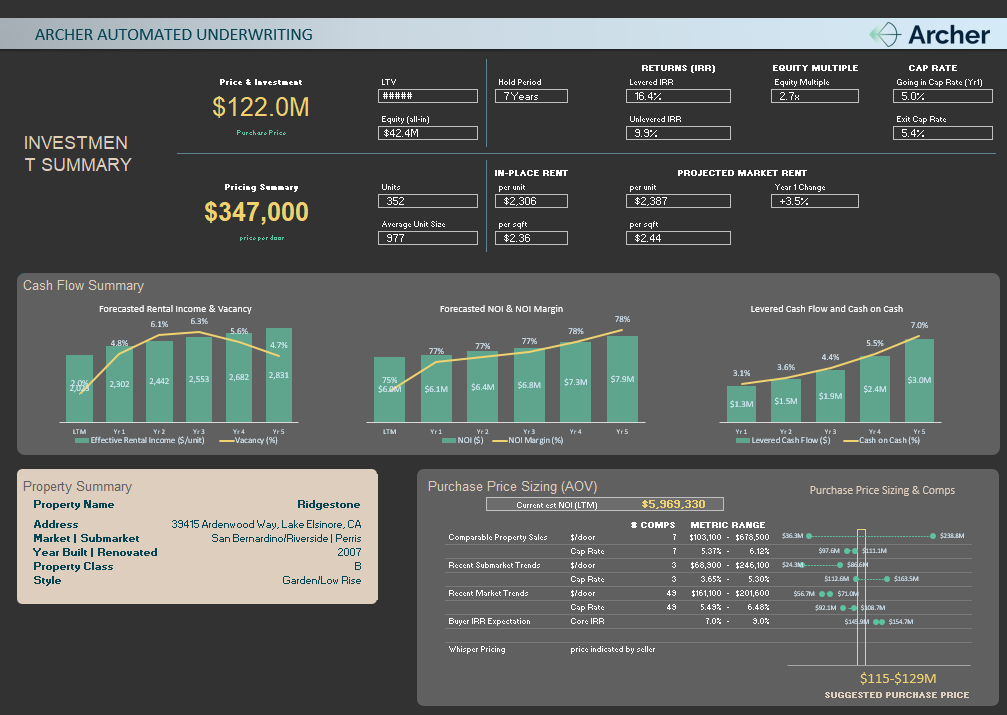 There are only so many hours in the day. And there are only so many analysts available to evaluate potential investments at real estate firms.
How can firms look at more deals and take advantage of more opportunities?
You can always consider hiring and training more analysts, but that obviously adds to your firm's headcount and overall expenses. Thankfully, there's a much more effective and affordable approach to adding underwriting punch to your acquisitions team.
Underwriting technology can be used to look at more deals than ever before — both deals that hit the market and deals that may be available off market.
Maybe you've tried an underwriting platform in the past that didn't quite meet your expectations. Or maybe you're still grinding out evaluations through a small underwriting team.
No matter your experience with underwriting tech, here's a look at the benefits you enjoy when you find an effective platform — plus the story of how one firm used technology to accelerate its deal flow.
The Benefits of Underwriting Technology
Underwriting teams are traditionally lean. Even at firms that have billions in assets under management, the underwriting team may consist of just a few associates. These associates are charged with evaluating whether or not potential deals have a strong return profile.
Underwriting technology can be used to accelerate, validate and streamline their work. Here's a look at the three primary benefits of integrating an underwriting platform into your deal flow.
1. Evaluate more opportunities
Your firm likely sees potential new deals each day. Your underwriting team can't possibly evaluate each and every opportunity, so you're forced to make a first-glance decision on whether or not a deal deserves a closer look.
Underwriting technology gives you greater coverage. No longer do you have to make that first-glance decision based on that first glance. You can evaluate more deals. The ones that come out looking favorable can move to your underwriting team for a deeper dive into the numbers.
No matter how strong your first-glance intuition, you've likely passed on deals that would have been perfect for your firm. Miss out on fewer opportunities by integrating underwriting technology into your process.
2. Shorten Evaluation Time
At most firms, it takes hours for underwriting personnel to properly evaluate a deal. The fastest underwriters might be able to evaluate a multifamily or hospitality deal in about an hour. But what if you could complete a full underwriting in minutes rather than hours?
Again, an underwriting platform doesn't necessarily replace your existing team. But technology can be used to accelerate their work and ensure that they evaluate as many opportunities as possible in as little time as possible.
3. Access More Expense Comps
Underwriting of a given property or portfolio is only as good as the data that underlies it. When you choose the right underwriting technology, you gain access to robust expense comps from more sources. This comprehensive data set allows your underwriting team to evaluate potential investments more accurately.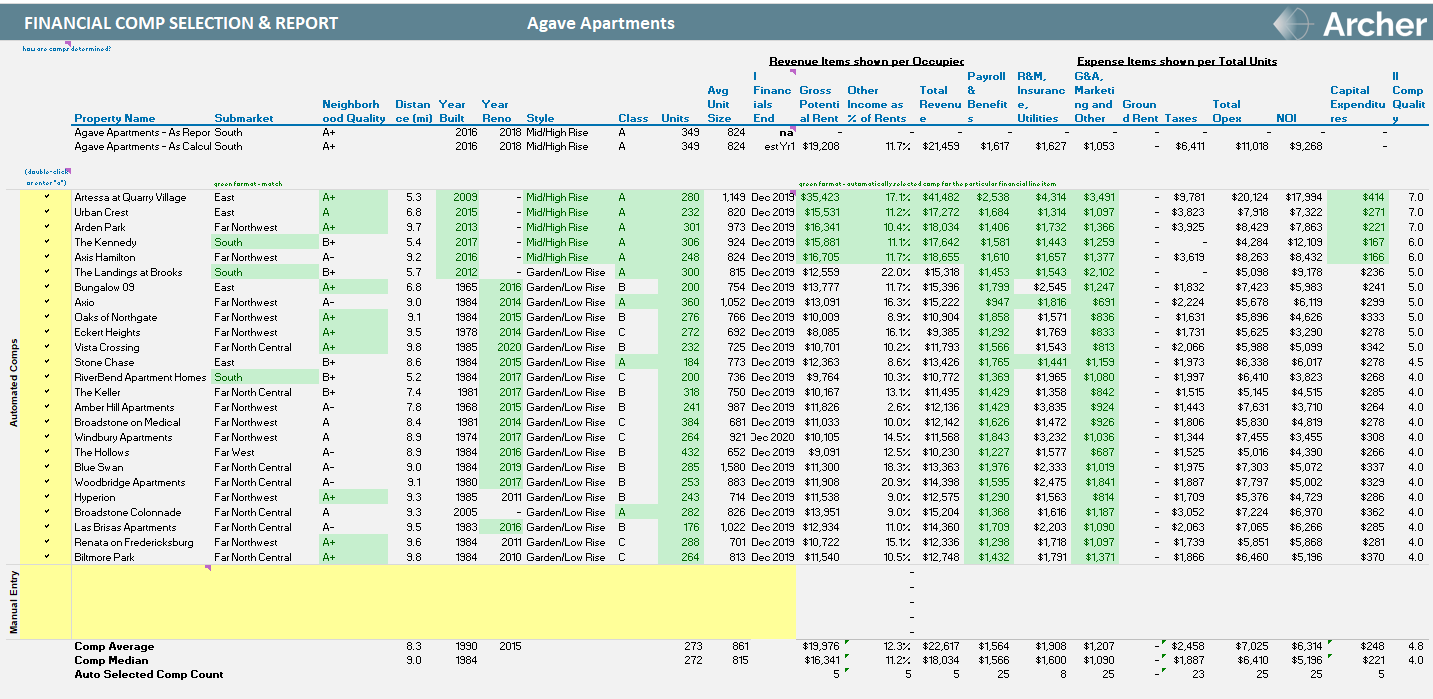 3 Steps to Automated Underwriting
At Archer, we offer automated underwriting as part of our suite of real estate investment solutions. Our platform can fulfill underwriting requests with or without T-12s in just minutes both for individual properties and portfolios.
Many of our clients use our platform as a primary underwriting solution, while others use it as a second-opinion tool that validates the work of their underwriting teams.
The platform uses a simple three-step process to deliver the information you need to make decisions on potential investments:
Enter the property's address.
Download the relevant information in seconds.
Finalize a full underwriting report in minutes.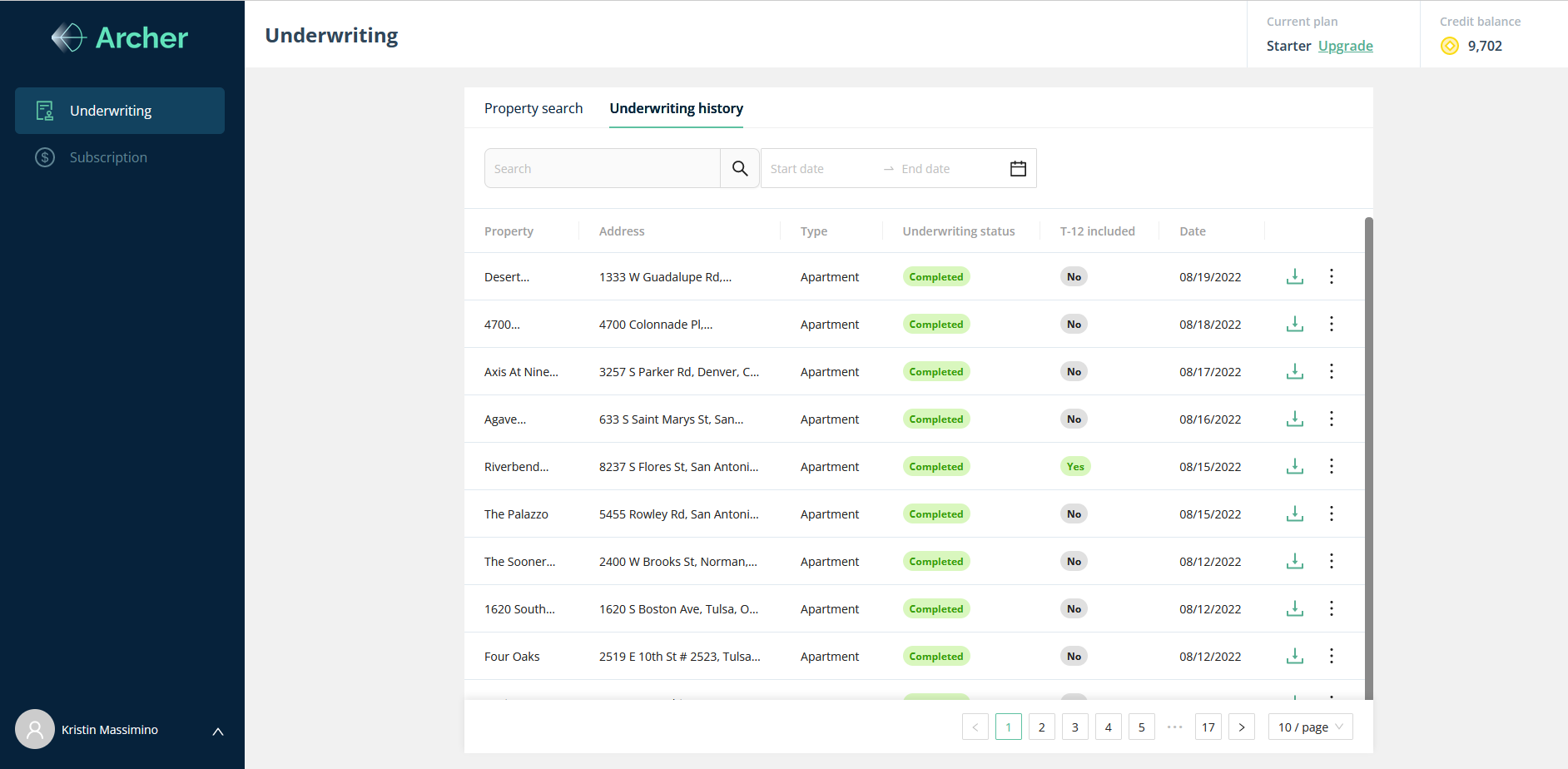 When you use Archer's underwriting technology, you grow your deal flow, accelerate your investment decisions, and outpace other firms in competitive environments.
RREAF Saves a Projected $100,000 Annually on Underwriting
RREAF is a privately held commercial real estate firm in Dallas, Texas. Its team offers more than 100 years of combined experience, and the firm has $4.3 billion in assets under management. Since its inception in 2010, RREAF has found success acquiring, developing, managing, owning, repositioning and financing complex projects across the country.
RREAF is an opportunistic firm that explores many deals that hit the market, often considering whether or not to get involved on a short time-frame. To evaluate new opportunities, RREAF's multifamily acquisitions team was using just two analysts. These analysts worked faster than many of their counterparts, evaluating opportunities in about an hour. But they still didn't have the resources to look closely at every opportunity that came their way.
There are risks involved with a lean underwriting team that regularly works on tight deadlines. The most significant risk is potentially missing out on a strong opportunity for lack of time or capacity.
RREAF initially worked with Archer as a deal sourcing client, but they soon started a trial to validate the results of Archer's underwriting technology. That trial confirmed that Archer's platform could complete an underwriting request with or without T-12s in well under an hour while ensuring the integrity of the information generated. RREAF soon after embedded Archer's Automated Underwriting tool into its evaluation process, which streamlined the firm's underwriting efforts and gave the team time and capacity to consider more deals than before.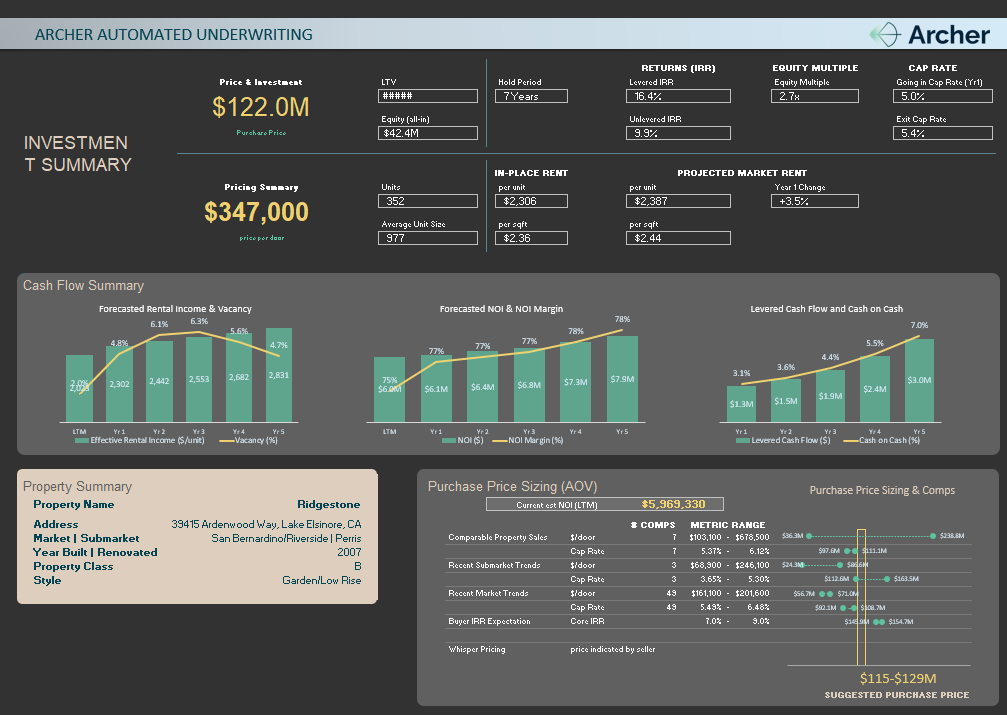 The firm uses Archer's Automated Underwriting in various ways. In some cases, RREAF uses the platform as a second opinion after its team has finished evaluating a deal. RREAF also uses Archer's underwriting technology to pursue off-market deals without financials, quickly screen broker blasts, get comps for deals that are deeper in the pipeline, plus more. The firm has even changed its mind about deals due to the underwriting report generated by Archer's platform. The team has found Archer's expense comps particularly helpful, including data related to rent, sales, opex comps and even investment committee memos.
The many ways Archer's platform can be used add up to serious time and money savings. After implementing the tool, RREAF's team will spend an estimated 240 fewer hours underwriting each year. The platform will save the firm a projected $100,000 annually and deliver an estimated 833% return on investment.
Most importantly, RREAF has limited the risk associated with its lean underwriting team working on tight deadlines. Following the implementation of Archer's platform, the RREAF team was able to quickly underwrite a six-asset portfolio in Tennessee with no T-12s and an eight-asset portfolio in Georgia and South Carolina with T-12s.
You can read RREAF's full story here.
Don't Miss Your Next Opportunity
Your underwriting team works hard. Help them do their best work, and help your firm evaluate more opportunities, by integrating underwriting technology into your deal flow. Archer's underwriting platform can help your firm:
Expand its deal flow.
Make faster investment decisions.
Stay ahead of the competition.
Ready to evaluate more deals and seize more opportunities? Contact us to get started with our underwriting technology.